I love picture frames. I look for interesting ones at every yard sale I attend. I recreate them for myself and for my etsy shop, but when I read Donna's post at
Funky Junk Interiors
, I realized that a picture frame can mean literally anything that holds a picture or pictures of your loved ones. Take the one above...it's a rusty old gate that my sis gave me a long time ago. It sits in my office and displays generations of my family and my husband's family. Some are even hanging in traditional frames.
Of course, I wanted to include a picture of my boys on this "frame," but it looked out of place with all these time-worn, sepia-toned memories. That's when I started experimenting with iPhoto and came up with an "antiqued" photo of my own. My favorite picture of my three loves in sepia!
Last, but certainly not least, I want to thank Carmen of Beyond the Fringe, for the sweet (literally) sugar cube scrubs that she sent me along with a wonderful
green tea
lemongrass soap. Here are the sugar cubes waiting to be used ... don't they look deliciously pretty?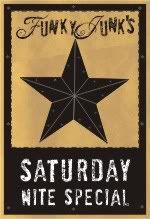 And today, I'm linking to Funky Junk's Saturday Nite Special: