've been quite busy cleaning, laundry, meetings, volunteering and not to forget my etsy business, creating. These are some of my latest transformations. Above, is one of my many cigar boxes turned keepsake boxes. I was in a pale pink mood so that's what went on the box...surprisingly, it took one coat of primer and about three of pale pink (no more pale pink for me!)
Sorry, no before pics, but for this next one, imagine a dark wood vintage souvenir box that said "Greetings from Texas" (well worn), and now it's a lovely sea green.
Last, is my all button up box that I showed you in an earlier post...I decided that it needed something else and promptly went to Joann Fabrics (with coupon in hand) to find a fun trim...and this is what I came up with.
Last, but certainly not least, I want to extend a big THANKS to Beverly of
GreenGracieHome
for sending me this pretty little burlap table runner! I won it via the
DIY Club
's month of giveaways. It really adds a little something extra to my table top.
Linking to: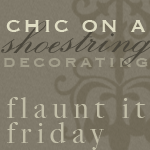 center>