Autumn brings beautiful warm colors into our lives...while rusts, oranges, bronzes, reds, and browns dominate, when inserted into my white and gray living room, they just looked out of place. Enter: spray paint and dollar store purchases. For a mere $10 (including the real pumpkins on my tray-above), I transformed orange into shades of white and off white. The tiger striped pumpkin is real -- isn't it cool?
While they aren't traditional autumn colors, I think white and off-white still bring in a touch of fall. Oh, and did you notice, my mirror is finally hanging!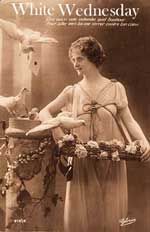 Don't forget, my FALLowers Sale is going on right now. Click
here for details.