This summer when I found my mantle, I also found this incredible table. Well, it doesn't look that great below, but I had big plans for her.
She was going to go in my foyer and she was going to be a soft creme, painted with Annie Sloan's chalk paint. I was so pysched to begin work on her, but she had to wait until I painted my hall and finished some projects for my clients. Well, I worked on her gradually and then finished painting it with Old White chalk paint on Friday. I then carefully distressed and waxed it. I loved her. Then...
I put her in the hallway. She didn't look at all the way I pictured her to look. I hated her (I mean I still loved her, but I hated her because it just didn't work). I tried her with a lamp; I tried her with everything; nothing looked good. I immediately listed it in my etsy shop and took a walk.
And, guess what? I sold her. One day. And, to one of my neighbors who saw her right after I posted it! How about that? Well, the table is still in my house because my neighbor is having her floors refinished. So, I have to look at her for a little while, but that's okay. I love her again. My hard work is going to a good home.
And, speaking of chalk paint, here are some other goodies I painted this weekend: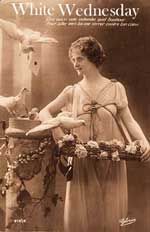 Linking to:
http://shadesofamberinc.blogspot.com/